Tech Lady Icon Rezwana Khan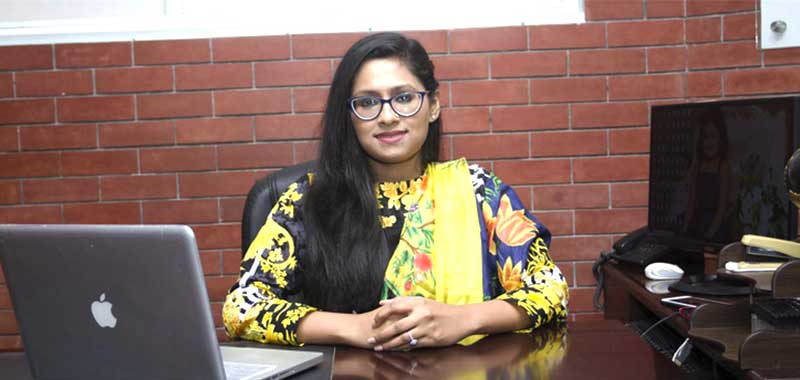 Rezwana Khan is the name of an icon running in the ICT sector. Her Knowledge, profession, or business everything is ICT sector centric. Because, she has 16 years of work experience in this sector. Rezwana Khan likewise has experience taking a shot at e-Governance, Enterprise, HR Resources and Capacity Development ventures. Rezwana Khan additionally has experience functioning admirably with a few government ventures, services, worldwide organizations, benefactors, and outside organizations. She has unique abilities in Enterprise Level Project and HR Development in ICT sectors. She is one of the leading icons, a tech lady who represents Bangladesh towards the world. Dedicated, skilled sprinter Rezwana Khan is not only a businessman, she is a business visionary, advisor, and financial specialist.

Albeit working with her own organization, Rezwana Khan is notable as a consultant in the ICT sector. She has been supporting different businesses and governments step by step to feature the ICT division. Her abilities remember work for how to improve innovation, key arranging counsel and development, business group arrangement, the executives change. She likewise exhorts on corporate business audits and marketable strategies. She additionally said that any adjustment in the business procedure should be checked and observed. Likewise fills in as an expert for fire up's with assets and authority, tech.
She has given openings for work to men just as ladies in his associations. Has constructed a talented workforce. In the work environment, she organizes work. She is additionally engaged with a few associations. She is likewise doing social improvement workday after day. There are a few distinctions regarding her believability.
Rezwana Khan, CEO of Star Computer Systems Limited, told the story of her journey towards IT sectors to TechLifeB readers.
Following the footsteps to her Father
Ali Akbar Khan, father of Rezwana Khan is Founder of Star Computer Systems Limited. In whose hands the association has been set up and famous. He is one of only a handful few spearheading IT specialists in the nation. Rezwana Khan is strolling in the way appeared by that father. She is the CEO of Star Computer Systems Limited. With work, ability, and mental fortitude, she is pushing ahead in multifaceted work. Not similarly as a businessperson, she longs for the nation's super technology. Dreams about the fate of computerized Bangladesh.
Dream and Motivation
The dream started when she saw his father working in information technology. Because Rezwana was close to her father. she wanted to study architecture, but it did not happen. Education additionally centers around the ICT part. And keeping in mind that contemplating, she imagines that she will work together and that is in the field of technology. She has consistently evolved himself in that manner. She graduated with a Computer Science (CSC) qualification from North South University and a Software Systems degree from the University of British Columbia. There she took a higher degree in the Advanced Management program at The University of Hong Kong. She at that point earned a Fellowship in Empower Women Throat Entrepreneurship and Business from the University of Southern Queensland.
Journey and Positions
She started his own business from his father's organization. Although her own organization, from 2002 to 2004, she worked as a software engineer for two years and one month. Then from 2004 to 2005, she worked as a Business and Systems Analyst for 1 year and 4 months.
Then join the position of Director and CEO of the organization. She has been working with Star Computer Systems Limited for 16 years. From the beginning of Rezwana Khan's career, she had a knowledge of the IT business. She started his software development and consulting business with a degree in software technology. Presently, she is running with several good initiatives in this sector. What's more, her association has assembled a gifted workforce.
About her organization
Rezwana Khan said that although it was established in 1991, Star Computer Systems became a limited company in 1998. "Our company has been working in the ICT sector for more than 28 years. And the main work of our company is Enterprise Application Implementation Development and Consulting. The size and value of these projects are worth millions of dollars. I work as a consultant for various profit companies in the world including Bangladesh. There is also an HR research development sector. In Bangladesh it is known as the training sector. More than 30,000 boys and girls have already taken various types of IT training from this sector. We usually prioritize the work of various multinational companies in America. There is a large team for consulting. In Consulting, we provide enterprise level solutions. Understanding the business process of the company, re-engineering the business process and how the hole solution will be these aspects are important. And one of the special aspects of our work is that the work we do is quality. We give more importance to the quality of work of international companies. There are plans to do more with IT, not just Star Computer systems. I have already started two more ventures like Star Computer. One of them is Knowledge Based Company. Only knowledge level work will be done here. The other is a high technical advanced level company. It's just technology based. Here we will work with the world's advanced and super technologies. The registration of these has started in the country and abroad."
Newcomers Approach in ICT Sector
Rezwana Khan is acting as the General Secretary of Bangladesh Women in Technology (BWIT). Furthermore, she has been working together effectively in the ICT segment of the nation for over 16 years. She needed to result in these present circumstances stage by conquering different deterrents. As indicated by him, she generally thinks to not need to peruse in the spots of her impediments.
We need skilled manpower. Our ICT sector lacks a lot of it. When newcomers start working, they need to learn to work with attention. However, many are doing very well in the ICT sector. New startups, new employees, new generation ideas or much more ahead. I believe that the new digital Bangladesh will be created by their hands. Times are changing, technology is also changing. The time is the fourth industrial revolution. So, it goes without saying how far the newcomers are in the era of Fourth IR.
Future Perspectives for Bangladesh
"I dream of super technology in the country," she added. The country will move forward there. In that continuity, the children of the country must work with advanced technology. So that they can work in tandem with the country as well as the outside world and get proper evaluation. I always work on these issues. I always call for the development of the children of the country with advanced training.
Challenges and Support
"I work in the ICT sector because I love it so much," she said. I think this sector is my family. When I started my father's business, I despite everything needed to breeze through numerous assessments. We have changed our business step by step. Also, there were minor issues that must be tackled. I figure I should motivate myself. Since to push ahead, your work will likewise substantiate itself. At that point the family needs support. About family life, she stated, I have a little family with a spouse and a girl. I generally need my parents in law to get me, to help my work, to invigorate me the to satisfy my wants and dreams. I got it. I got their help constantly."
Image Collected from Banglanews24.com